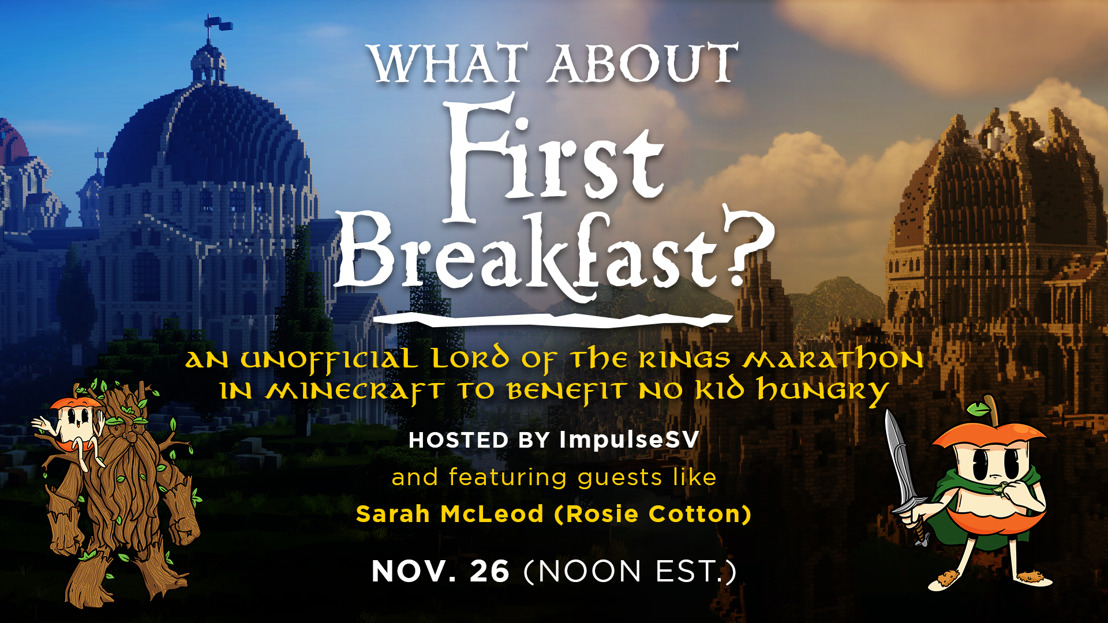 Minecraft Middle Earth and ImpulseSV Unite to Fight Childhood Hunger with a 24-Hour Lord of the Rings Marathon
What about First Breakfast? is a first-of-its-kind Minecraft marathon that aims to recreate Lord of the Rings moments inside of Minecraft, live on Twitch, all to benefit No Kid Hungry.
NOVEMBER 23, 2021 - What about First Breakfast? unofficially reimagines the time-honored fan tradition of marathon-viewing all six films based on J.R.R. Tolkien's writing--The Hobbit trilogy and the Lord of the Rings trilogy--inside of Minecraft, all to fundraise for No Kid Hungry and support their mission to help feed the millions of children in the United States who are facing hunger. help feed the 1 in 6 kids in America struggling with hunger. Streamed live on Twitch for 24 hours, this chat-driven adventure drops ImpulseSV into the legendary Minecraft Middle Earth server where he will explore over 10 years of fan-built moments and re-live dozens of scenes from the films.
ImpulseSV, known for his prolific Minecraft YouTube channel and long-running role in the iconic HermitCraft server, will travel across the dangerous realm of Minecraft Middle Earth to collect seven hobbit meals, raising money to fight childhood hunger every step of the way.
In addition to the expansive world built by the Minecraft Middle Earth community, this stream features dozens of custom creature and character models, original voiceover, donation-triggered moments, and a Helm's Deep battle pitting ImpulseSV against 30 Twitch viewers.
The event even has special guest appearances from real Lord of the Rings cast members. Sarah McLeod, the actress who played Rosie Cotton, sweetheart to Samwise Gamgee, joins the stream for an hour to answer chat questions and play alongside ImpulseSV.
At any moment, viewers can use donations to send aid, trigger events, or revive Boromir so that he can be filled with arrows yet again. Though the stream itself will be lighthearted, the cause is serious: millions of children will go hungry unless we help.
"The idea that there are children out there struggling to get food, any food, that hits me hard," ImpulseSV says. "No one's kids should go through that."
The event begins at 12pm EST on November 26, 2021 and will broadcast live on Twitch for 24 hours. Visit the event Tiltify page to watch and to donate. Every $1 donated can help connect children to 10 meals. Preview what the event has in store with this exclusive trailer:
# # #
About Minecraft Middle Earth (MCME)
Founded by q220 on 10th October 2010, MCME is one of the longest running Minecraft building communities and has been called one of the "best minecraft servers" according to the PCGamesN Magazine. The MCME map is 29,000 by 30,000 blocks and it was created in WorldPainter and WorldMachine. This makes an area of 870 square kilometers - the same size of Dallas or Fort Worth in Texas! Learn more at MCMiddleEarth.com.
About ImpulseSV
ImpulseSV, also known simply as Impulse, is a YouTuber and Hermitcraft member. He joined Hermitcraft in Season 3. A father of three, his YouTube channel boasts more than a million subscribers. He is well-known for his farm designing skills and the tutorials he creates for his designs. Learn more about Impulse at youtube.com/impulsesv.